C.C.F. Filson Arctic Down Parka Review
Below is my two-minute review of the C.F. Filson Arctic Down Parka. I don't see the need to fill a review with fluff, I'm a bottom-line kind of guy.
Why did I buy the C.C.F Filson Arctic Down Parka? I visited the Milford, Connecticut REI three years ago and purchased the North Face Apex Storm Peak Triclimate Jacket to replace a similar but worn-out North Face jacket. The jacket seemed perfect for our New England winters, and I was wrong. Unfortunately, the jacket turned out to be a $400 disappointment. My upper back and shoulders were always cold, and no matter how much I tightened the drawcord, cold air entered the jacked from the bottom. I grew to hate the jacket.
Fast forward to a Filson Black Friday email blast that featured their Canada-made Arctic Down Parka at 40% off the regular retail price. Historically I have learned that Filson sales require a buyer to move fast because the sale items sell out fast. Being a big fan of Filson apparel, particularly their Alaskan Guide Shirts and Smokey Bear Collection, I knew I had nothing to lose, so I ordered the Filson Arctic Down Parka.
A few days late, I came home to a package from Filson waiting in my driveway. Two details immediately stood out. The box was bigger and heavier than I expected. Eagerly I headed inside and unboxed the parka, which revealed a delightful surprise inside. The quality of the Filson Arctic Down Parka is visible in every detail.
Quality Construction
The 12-ounce cotton duck is a heavyweight fabric mated with one of the most robust zippers I have experienced on clothing. Sealing the zipper from the elements is a storm flap featuring an industrial strength hook & loop, also known as Velcro. The remaining zippers and snaps are equally robust, and holding the parka together is gorgeous heavy-duty stitching.
Features That Matter To Me
The Filson Arctic Down Parka isn't just made well; the parka has the fit and features matter; there's no settling on shortcomings. The parka's 12-ounce cotton duck, in many ways, has a "Carhartt feel," which is no surprise because much of Carhartt's cold-weather outerwear also is made with 12-ounce cotton duck. I bring up the Carhartt reference only to provide an idea of the parka's outer shell's stiffness, thickness, protection, and durability.
The parka has ample exterior pockets, and other than the hand warming pockets, they are secured with the same heavy-duty hook and loop as the storm flap. Make no mistake, this stuff is tough, and nothing will fall out of your pockets!
The collar is just about perfect, it seals well and is taller than most, and that's a good thing. The hood is perfect, and it fits great with ample room for a thick hat. The hood also stays put and doesn't fall over the eyes.
On the inside of the parka is the typical quilted lining you would expect in an insulated jacket like this—no fleece to fight with and roll up one's shirt sleeves.
Details To Be Aware Of
The Filson Arctic Down Parka is heavy; if you like to travel light, this parka might not be for you. The parka is also a pet hair magnet; keep that in mind. I made the mistake of leaving the park on my recliner, and my two Ocicats, Odin and Ryan Reynolds, took up residence. I took ten minutes with a sticky thing to get the hair off the body of the parka. It took another ten to remove to pet hair from the Velcro. Please don't say I didn't warn you.
When driving a vehicle, the bulk and warmth of this jacket may be too much for some. I drive a Jeep JKU Sahara, so it takes a while for me to get too warm.
As I mentioned above, the Filson Arctic Parka has some weight to it, and the weight is a testament to its ability to keep me warm and keep the elements out. I suggest a heavy-duty plastic or wooden clothes hanger for hanging the parka.
Is It Warm?
This winter here in New England, we have been treated to a significant number of days hovering around zero degrees Fahrenheit. The cold temperatures have arrived with a lot of wind and near blizzard conditions. The Filson Arctic Down Parka has taken in stride; everything winter has thrown at me. I no longer dread long, cold walks with the dog, are the one hundred feet to my Jeep.
There is no cold air sneaking up from the bottom, no cold back and shoulders, a hood that keeps my head and a significant portion of my face warm. What else could I ask for in a parka?
Filson Arctic Down Parka: Conclusion
The Filson Arctic Parka is a beautifully made heirloom quality parka that will keep you warm and dry no matter what winter weather sends your way. Whether purchased at the full price or on sale the parka is a great value. Parka's this good typically costs hundreds of dollars more.
If you're looking for an everyday cold-weather parka I cannot recommend the Filson Arctic Parka enough. It's the best parka I have owned in my 55 years on earth.
Visit Filson
---
CCF Filson Arctic Down Parka
Named for Clinton C. Filson, the CCF line of versatile and rugged workwear carries on a rich tradition. Made in Canada, this down parka is a natural addition to the line, constructed with cotton duck fabric and down insulation that's the perfect defense against the cold chill of winter. The parka's appeal adds a corduroy-lined collar and an insulated, detachable hood. At the same time, lined handwarmer pockets, triple-stitched shoulder seams, and rib-knit inner cuffs provide plenty of evidence that this layer is built for the long haul.
Filson C.C.F. Utility Down Parka combines the durability of cotton duck fabric with the warmth of down insulation for a coat that shrugs off abrasion and frigid temperatures. The C.C.F Filson Arctic Down Parka is outfitted with a corduroy-lined collar and insulated detachable hood.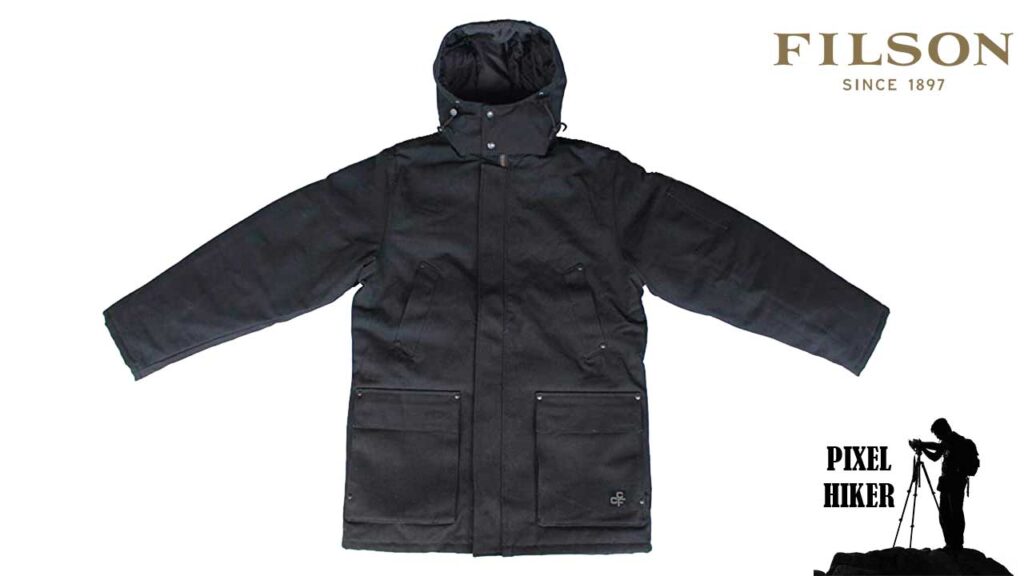 C.C.F. Filson Arctic Down Parka Specifications:
Fabric: 12-oz. 100% cotton duck + 50/50 down insulation + polyester lining
Usage: Everyday, Field, Workwear
Care: Machine wash cold, Air-dry
Origin: Made in Canada
C.C.F. Filson Arctic Down Parka Features:
Zippered front closure with storm flap
Insulated, the adjustable hood is snap-detachable
Action back for a full range of motion
Rib-knit inner cuffs and drawstring-adjustable waist
Triple-stitched shoulder seams and riveted stress points
Lined high-set handwarmer pockets and front and side-entry lower pockets
Filson Arctic Down Parka Review
Summary
Filson Arctic Down Parka Review: The Arctic Parka is a beautifully made heirloom quality parka that will keep you warm and dry no matter what winter weather sends your way.
Pros
Well designed
Heirloom Quality
Warm
Comfortable
Made in Canada
Good fit
Great value at full price
Cons
Expensive when not on sale
Pet hair magnet
Heavy