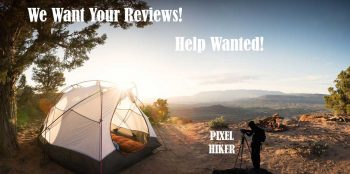 These days it's nearly impossible to find a website with honest reviews of hiking & backpacking and outdoor gear. The tell tale signs are stock manufacturers images and reviews based on reviews and comments of actual owners and not that of the author.  It's difficult to find subjective and qualitative reviews. Often too the honest reviews are buried way back in Google Search results because the folks writing the fake reviews are typically also very good at gaming the Google search algorithm and own page one and two search results. Often too there is substantial budgets behind the sites with these fake reviews. Those websites are business created simply to make money.
Wen you are searching for gear do you often use the term "Best" when searching for a piece of gear? Examples: "Best Hiking Boots", "Best Backpack", "Best Ultralight 2 Person Tent" etc. When you search for those phrases your results will almost always return with search results that are either exactly what you searched for or more often it will be "Top 10 Best Hiking Boots For Men" "Top 10 Best Backpacks 2019" "Top 5 Ultralight 2P Tents". What could be wrong with that? On the surface nothing but once you begin reading you realize the content is thin and often the reviewer clearly never even touched the equipment in person. This is frustrating because you and me both want the truth, we want the facts and we want to make sure our money is well spent.
The best hiking and backpacking gear reviews are probably the reviews that Google will never show you and that's a sad fact. I don't exactly blame the website owners because Google has created this pay for play system where Google, Amazon and the big name retailers with massive budgets created a commission based internet that all website owners must embrace to exist.
My own websites now cost me about $15,000 a year to operate. When I started my first website on 2004 or so I spent about $60 a year. So to be clear every personal website that want's visibility, want's to be seen must spend money to exist. All my websites including Pixel Hiker will have some paying links but they will also have real content, real reviews and in many cases my own pictures where relevant.
Writing great engaging and informative content also takes a lot of time and often money. Very few manufacturers hand out products for test and evaluation these days which means guys like me need to buy what they reviews. If I want to find the "10 Best Sleeping Bags For Backpacking" I would need to buy at least 10 sleeping bags, try them out, detail the experience etc. These types of reviews are simply not possible for regular folks with day jobs and limited time and money.
That brings me to the root of this post. We need your gear reviews! We want to have real reviews by regular folks who have spent valuable time researching and their hard earned money on purchases. Lets bring honesty back to the gear review process. Dont worry if writing isn't a strong point of years, it's not mine either but together we can overcome that and create content. You also don't need to be a photographer, modern cell phones are good enough.
Whether your interested in helping a little or a lot any help will be appreciated. Drop us a message at the contact page.